Treatment for an Extra Sore Throat
For fast, powerful relief beyond our regular lozenge, try Strepsils Extra. It has an advance formula* with both anti-bacterial and anaesthetic action to numb the pain of inflamed sore throats.
Anaesthetic action to quickly numb sore throat pain
Anti-bacterial action to help kill bacteria*
Soothing action with great Honey & Lemon flavour
*in vitro study
Strepsils® For relief of sore throat symptoms. Always read the label. Follow the directions for use. If symptoms persist, talk to your health professional. *Strepsils Extra lozenges contain antibacterial + anaesthetic action & Strepsils standard lozenges contain antibacterial action only. *in vitro studies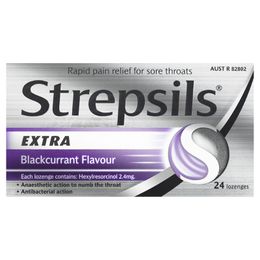 Strepsils Extra contains an ingredient which is both antibacterial to fight bacterial throat infections but also has anaesthetic properties to numb throat pain.